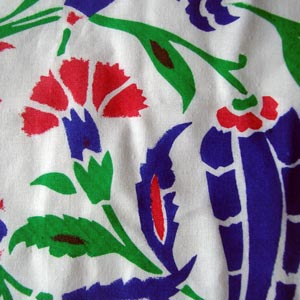 Print making using paper stencils - this uses your own design printed onto a T shirt or length of fabric (up to half a metre). The design is traced onto paper and colours chosen for each part of the design. A paper stencil is traced from the original design onto cartridge paper - one stencil per colour to be used. Accuracy is essential. Some stencil need more care especially if there is quite fine detail to avoid losing essential bits. Coloured fabric dies are mixed with binder to create the desired colour.
The fabric is laid onto the print table, the stencil put on top and a silk screen frame carefully put over this. Ink is spooned into the screen and applied using a squeegee. This process is repeated using a dry screen and the next stencil placed over the dried print. The end result can be heat fixed using a warm iron.
Seeing the first colour printed onto the white fabric is quite magical and the resultant printed design very satisfying.
More detailed photographic screen printing may be available later in the year.
As with all workshops please ring first to book in time.
Click on the link to see the cost of a session.
Those who have undertaken Print Making: