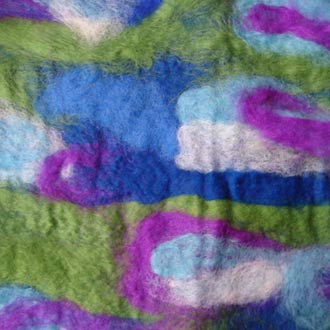 Wet Felting can be used with dyed or coloured Merino fleece to create design work, bags, footwear etc.
This technique is suitable for a beginner with no experience but with enthusiasm to try it out.
Fleece strands are laid out in layers, one way then another. they are dampened with water and gentle soap solution before being wrapped in bubble plastic and rolled for at least 20 minutes.
The felted piece is then washed, carefully pulled into shape before being dried. If a bag is being made then a lining, strap and fastenings need to be added so some basic sewing skills would be an advantage.
The coloured fleece, equipment and linings are supplied. An apron would be required.
Click on the link to see the cost of a session.
Those who have done felting